Happy Valentine's Day, lovelies!! Here is a virtual cookie for you all to enjoy. There's nothing better than a tasty, frosted sugar cookie.
Here's a Valentine's Day card I made. I had two challenges in mind when I made it.
First, is
Card Makin Mamas
. They wanted to see some Valentine's Day cards. So I broke down and finally made one.
Second, is for my new role over at
Paper Issues
. I was turned on to this site from my friend,
Kristy
. The girls over there are fabulous!! And the best part is that if you used paper and you've ever made a project/card/layout and it fits the criteria, you can link it up to play along.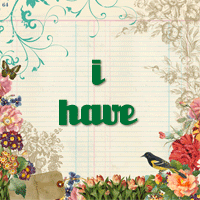 The current challenge is
The Birds & The Bees (and Butterflies)
. I know you've all used these in some way at some time, right?! Link it up—play along!!!
I hope you have a great Valentine's Day. Hubby is working, but we'll be celebrating later this week. We're also celebrating the 10th anniversary of our first night out together, so that event has overshadowed the Hallmark holiday. But I will be getting a small V-Day gift for Nate today. He's been so excited that Mommy is going to get him a surprise valentine.

Thanks for stopping by today!!